CAMPERVAN AND RV MOTORHOME HIRE IN SPAIN (MALAGA)
3 models of campervan for renting
VanBreak is a Campervan and RV Motorhome rental agency in Spain, based in Malaga (Andalusia)
---


5 seats

4 adults + 1 kid

From 75€/day
More informations…

Diesel, 110hp, manual transmission

Manual pop up roof
2 rotating front seats
1 inside table + 1 outside table
Awning + 2 camping chairs
Electric cooler (12v) + Camping gaz portable
Portable solar shower with water reserve (25L)
Stationary heating (for the night)
Blackout blinds for each windows
Mosquito net
Front and rear radar
Roof rack (option)
---


4 seats

4 persons

From 85€/day
More informations…

Diesel, 150hp, Automatic gearbox

Electric pop up roof
2 rotating front seats
1 inside table + 1 outside table
Awning + 2 camping chairs
Indoor kitchen (2 gas cooking trays, sink, fridge)
Outdoor shower (30L)
Stationary heating (for the night)
Blackout blinds for each windows
Radar and reversing camera
Mosquito net
Bike rack (x4)
---


4 seats

4 beds

From 95€/day
More informations…

Diesel, 130hp, Manual gearbox

2 rotating front seats
2 double beds, hight quality mattresses
Cozy living area with inside table for 4 people
Indoor kitchen (2 gas cooktops, kitchen sink, fridge 80L)
Indoor bathroom with WC, shower and hot water
Awning
1 outdoor table + 2 camping chairs
Stationary heating (for the night)
Blackout blinds for each windows
Mosquito net
Reversing radar and camera
WHY CHOOSE VANBREAK CAMPERVAN FOR YOUR ROAD-TRIP IN SPAIN ?
No surprise on arrival…
New vans
disinfected between rentals

Bedding kit included
(sheets / pillows)
Cooking kit included
(kitchen ustensils and dish)
Mobile App
to support you
Enjoy an exceptional stay in Andalusia, Spain and all over Europe aboard one of our equipped vans or motorhomes. Our vehicles are fully equipped to give you maximum comfort. Thanks to the top of the range interior layout of the new vehicles, you can enjoy your trip with total peace of mind. Depending on the number of passengers, and your destinations, you can choose from our three models of fully equipped vans and motorhomes. Take the road trip of your dreams aboard our VW Kombi or our mini Burstner City Car motorhome, departing from Malaga (Spain).
MOTORHOME (COMPACT RV MOTORHOME HIRE)
The complete motorhome compact, the City Car (Fiat DUCATO) offers a large living space, fully equipped and comfortable thanks to its perfect layout. It can accommodate 4 people, with two bunk beds, kitchen area and indoor bathroom (shower and toilet). Ideal for holidays in summer and winter, it is recommended for road trips to discover nature and the countryside.
Why choose a compact Motorhome (equipped van) ?
The City Car is perfect for a family vacation, as it offers the comfort of a small motorhome, with an indoor bathroom (hot water), a cozy spacious living room, a kitchen and a big refrigerator. You will travel happily with children (young or old) or with friends, for an exceptional road trip departing from Malaga.
For which type of trip is this van designed for?
Its dimensions do not always allow you to enter urban parkings, so we recommend this van for road trips to the countryside or campsites. If you want to travel to Andalusia or Portugal, discover the Costa del sol and the mountainous region, the City Car is ideal. You can also visit the big cities, but we advise you to park outside the urban center and go walking or use the public transport.
VOLKSWAGEN CALIFORNIA T6 CAMPERVAN
Compact, comfortable and with a great handling ability, the famous VW California Kombi is a privileged choice for your road trip holiday in a fully equipped van. Thought and designed to optimize space, the campervan offers you 4 beds, including a double bed in the pop-up roof. It also has all the necessary equipment for an unforgettable vanlife experience in Spain: shower, cooking essentials, storage, etc. The Volkswagen California T6 campervan is the top-of-the-range model in its category.
The VW California Ocean Kombi is ideal for a trip with friends or with children (2 double beds). The kitchen area (fridge and sink) and its outdoor shower give the freedom to enjoy a comfortable road trip in Spain. Easy to drive, it is ideal for trips to the countryside, the seaside and to visit big cities; Seville, Granada, Malaga, Cordoba, etc.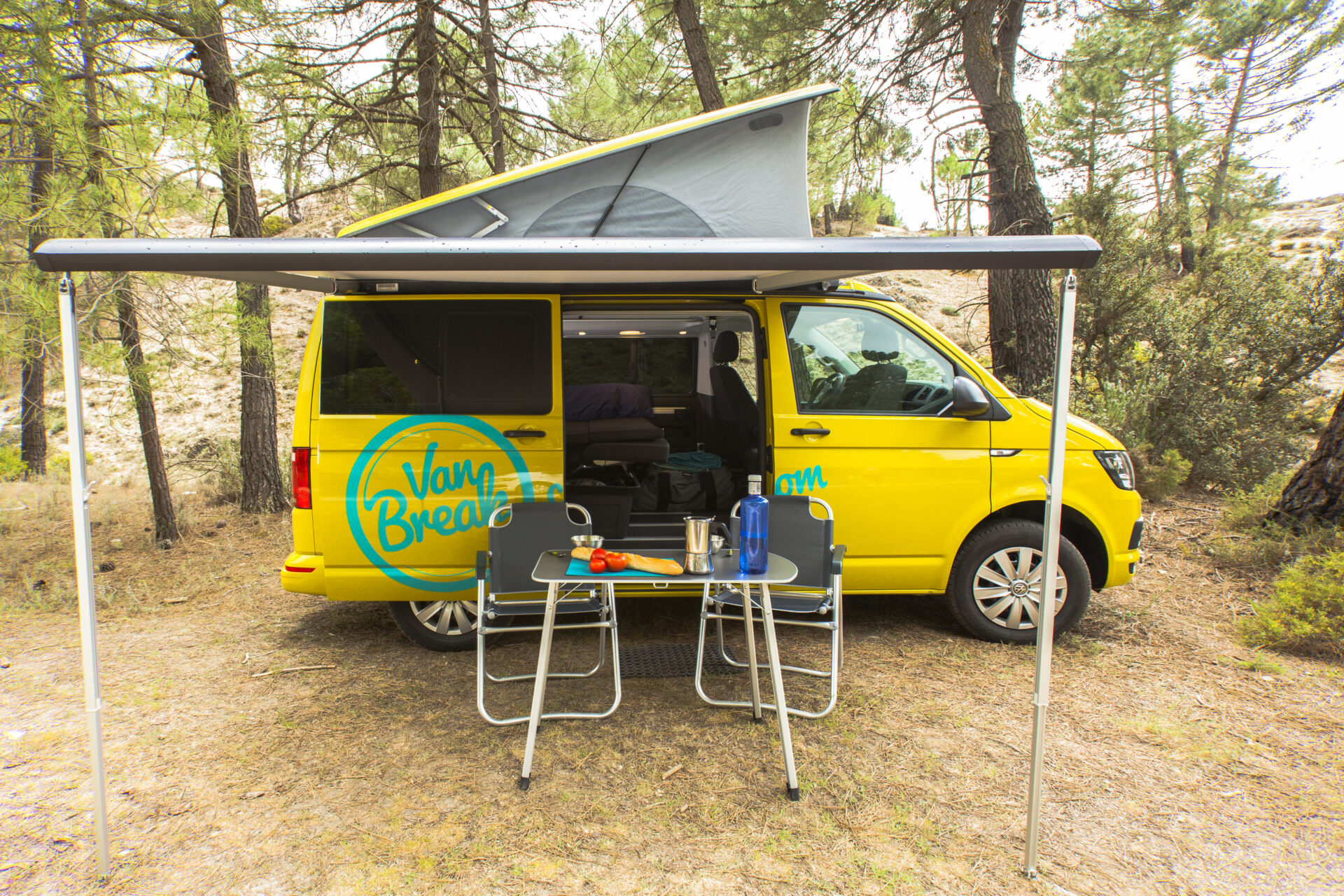 From 75€ per day, the VW California Beach Kombi is the perfect traveling companion to enjoy an amazing road trip in Andalusia. It accommodates up to 5 people, has two double beds, and it is equipped with a camping kitchen kit and a portable shower, it is ideal for parking on campsites or in natural spots. It is also perfect for driving in town and in the countryside.
ADD THE OPTIONS TO YOUR CAMPERVAN OR RV MOTORHOME HIRE
Choose from our additional options for a comfortable and tailor-made road trip!
HOW TO CHOOSE YOUR CAMPERVAN ?
Campervan comparative matrix
Exterior

Interior

Range

Economic
Confort
Premium

Price

From 75 €
From 105 €
From 120 €

Controlling

Easy
Easy
Moderate

Demonstration

DEMO
DEMO
DEMO

Booking

BOOK
BOOK
BOOK

TECHNICAL information

Campervan size L x w x h

490cm /  190cm / 199cm
490cm / 190cm / 199cm
599cm /208cm / 258 cm

Motor

110 cv
150 cv
130 cv

Fuel

Diesel
Diesel
Diesel

Consumption

7,5L/100 km
7,5L/100 km
11L/100 km

Gearbox

Manual 
Automatic
Manual

Speed regulator

Yes
Yes
Yes

Rear view camera

No

Yes
Yes

Pilot parking system in the front and back

Yes
Yes
Yes

Heated seats

Yes
Yes
Yes

Car radio USB

Yes
Yes
Yes

Standart drinving license UE

Yes
Yes
Yes

To SLEEP

Bedding

4 adults + 1 child
4 adults
4 adults

Beds size

Main bed: 150x200cm / Roof bed: 120x200cm
Main bed: 120x200cm / Roof bed: 120x200cm
Main bed: 185x140cm / Secondary bed: 188x120cm

Heating system

Yes
Yes
Yes

Sheets and pillows

Included
Included
Included

Mosquito net

Yes
Yes
Yes

Blackout curtains

Yes
Yes
Yes

Sound insulation

Yes
Yes
Yes

Thermal insulation

Yes
Yes
Yes

to EAT

Inside kitchen

Saucepan, skillet, knives, forks, spoons, plates, bottle opener, mini coffee maker, wooden spoon, cutting board, glasses, bowls, strainer, tupperware, vegetable storage, cutlery, cutlery, scissors, kitchen knife, strainer, salad bowl, kitchen towel

Kitchenwares and dishes

Yes
Yes
Yes

Inside gas stoves

No

Yes
Yes

Camping Gaz external

Yes

No

No

Fridge

No

Yes – 42L
Yes – 80L

Electric cool box

Yes

No

No

Sink

No

Yes
Yes

To WASH

Inside bathroom

No

No

Yes

Sink

No

No

Yes

Inside shower

No

Yes
Yes

External shower

Yes
Yes

No

Hot water

No

No

Yes

Water tank

25L
30L
100L

Toilet

No

(dry toilet in option)

No

(dry toilet in option)
Yes

to LIVE on BOARD

Interior table

Yes
Yes
Yes

Rotating seats

Passenger + Driver
Passenger + Driver
Passenger + Driver

Inside lights

Yes
Yes
Yes

Air conditioning

Yes
Yes
Yes

220v plug

Yes
Yes
Yes

12v plug

Yes
Yes
Yes

USB plug

Yes
Yes
Yes

Battery autonomy (living space)

>48h
>48h
>72h

Wardrobe

No

Yes
Yes (big size)

ISOFIX system for baby seat

Yes
Yes

No

to LIVE OUTDOOR

Awning

Yes
Yes
Yes

Camping table 

Yes
Yes
Yes

Camping chairs x2  

Yes
Yes
Yes

Clothesline

Yes
Yes
Yes

Lights kit

Yes
Yes
Yes

CONFORT & SECURITY

Parking

Everywhere (as a car): Path / Wild Spot / Cities / Camping
Everywhere (as a car): Path / Wild Spot / Cities / Camping
Motorhome areas / Camping / big parking places

Camping adaptator (European)

Yes
Yes
Yes

Extension Cord

Yes
Yes
Yes

Wedge stabilizers

Yes
Yes
Yes

Vest and warning triangle

Yes
Yes
Yes

Emergency kit

Yes
Yes
Yes

Cleaning brush

Yes
Yes
Yes

OPTIONS

 

Sleeping bag, towels, extra chairs, bike rack, body board, paddle surf, baby seat, beach games kit, barbecue, dry toilets, gps

Booking

BOOK
BOOK
BOOK
All the comfort of a motorhome in an equipped van
All our equipped vans have two double beds, thus offering four beds. Each vehicle has an indoor or outdoor shower, a kitchen area (or camping kit) and a fridge or cooler. With all the big space you have inside, you can transport your favorite sport equipment such as surfing, paddle surf, kitesurf, hiking, etc. You can turn the front seats to face the rear seats and by this you'll be having a large living space. The vans have a capacity of 4 beds, and 4 or 5 seats (rear seats of 2 or 3 places), depending on the type of vehicle. So, you can easily enjoy your vacation with your romantic loved one, family or friends aboard one of our vehicles.Each vehicle has two independent batteries, one for driving, and a secondary which supplies the living space. The latter has a battery life of two days approximately, and it recharges while driving. If you wish to park on a campsite, you can benefit from the electrical connections to use the 220V sockets. The equipped van or motorhome therefore allows you to live independently, near the seaside, campsites or natural areas of your own choice!
Safe driving
Our campervans are fully equipped, new and approved to guarantee you a reliable and serene drive. We offer vans with manual or automatic gearboxes. Each vehicle is carefully maintained, to allow you to travel safely. Equipped with various driving aids: reversing camera, hill start assistance, etc. our vehicles are maneuverable and pleasant to drive. You can easily drive by the maritime or mountainous coasts, passing through the typical Andalusian or Portuguese villages. All our campervans have a safety kit including a warning triangle, a jack, a life jacket and hill start cables (standard equipment).
Summer and Winter
Our campervans are equipped with external awning, which protect you from the sun during the summer period. Each vehicle has a camping table and chairs. If you want to travel in winter, our motorhomes and vans are all equipped with stationary heating connected to the secondary battery. You will be able to sleep warm all night, either near the coasts or in mountainous villages, enjoy your complete autonomy and freedom.
How to rent a camper van with Vanbreak?
The van rental is done during the day. We will contact you a few days before your arrival to set the meeting time, so you can pick up the vehicle at Alhaurin de la Torre (Malaga). You can watch our vehicle demonstration videos, and we will, gladly, answer any questions you may have regarding your road trip. The rental contract of the van will be sent to you by email immediately. During your vacation, we stay tuned to answer your questions by email, phone or messages. When your adventure ends, your departure is also scheduled by an appointment and you must return the campervan within the defined time. We then check the condition of the vehicle and the deposit is automatically released during the following month.
Strong points of our kombi / rv motorhome hire
flexibility: departure and arrival upon appointment

availability: we answer your questions

freedom: you can travel wherever you want (Terms & Conditions), anywhere in Europe, with unlimitedmileage
recommendations: findout our itineraries and our travel tips 

manyotheroptions: rent the necessary equipment according to your trip: camping accessories, beach kit, portable toilets, additional chairs, sleeping bags, GPS, standing paddle surf,…